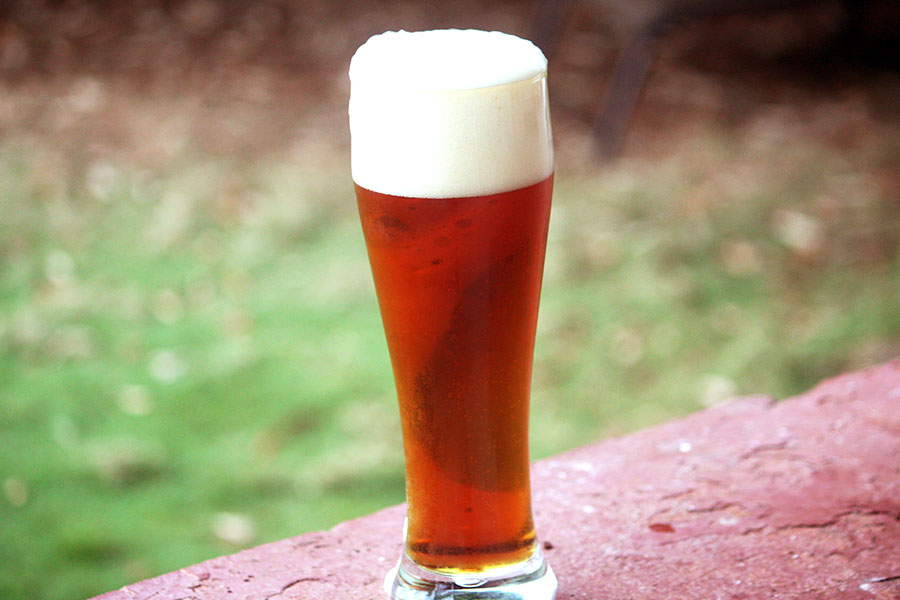 This was just a beer that I needed to make to have beer in the keg. I was a little impatient to drink it and tapped it a bit soon. After two weeks, this beer cleared up and smoothed out very nicely. The color turned out really rich pleasant to look at. I was thinking it would be a bit bitter for me, but really it's balanced really well for an English pale, leaning on the bitter side as it should. You get a pleasant hint of maltiness as it sits on your tongue. Then as it lingers the earthy/minty aromas from the hops blend with the male and then add a hint of that tongue biting bitterness that is pleasant, but not overpowering. It turned out to be a very clean beer with an elegant finish.
English Pale Ale
OG: 1.046
FG: 1.009
ABV: 4.9%
IBU: 35
SRM: 22
CAL: 113/12 fl. oz.
5 lbs Pale Ale LME
1 lb White Wheat
3/4 lb Crystal 10
1/2 lb Carapils
.6 oz. US Northern Brewer (7.4% aa @ 15 min)
WLP500 Trappist Ale Yeast
Steep grains in 1 gal water @ 155˚ F for 60 minutes. Rinse with 2 gal hot water (~110˚F). Bring to a boil. Add .6 oz hops for 45  minutes. Turn off heat and add LME. Stir well and bring back to a boil. Add 1.4 oz. hops and Irish Moss for 20 minutes. Whirlpool and let sit for 4 hours while you pick up your son from a robotics competition. Transfer to fermenter and top off to 5 gallons w/ cold water. Aerate well and pitch yeast. Ferment at 60˚F for 1 day. Raise to 63˚F for 1 day. Raise to 70˚F for 10 days. Lower to 65 ˚F for 8 days. Transfer to keg and set to 30 psi for 3 days. Lower to 20 psi for 5 days. Set to serving psi, set temp to 55˚F and enjoy.