I've been to a few brewpubs over time and have ordered beer samplers. Recently, it's become a sort of trendy thing to order these samplers under the guise of a beer flight. The idea of a beer flight is very simple and has increased in popularity along with the increase in availability of different beer styles . This idea, of course is to sample several different beer varieties. Whether your reason is to widen your beer knowledge, find a favorite beer, broaden a narrowly focused viewpoint, hone your beer tasting skills, or just want variety, getting a beer flight is a great and cost effective way to do that.
My most recent experience was at the fairly new brewpub, Honolulu Beerworks. This place has some great atmosphere, but lousy metered street parking. The tables are set with pads of papers containing 6 slots to write your choice of beers for your flight. They keep about 10 beers on tap to choose from. We tried all but the IPA's. I've never been a big IPA fan. That left us with 8 beers to try. This required a flight and then some.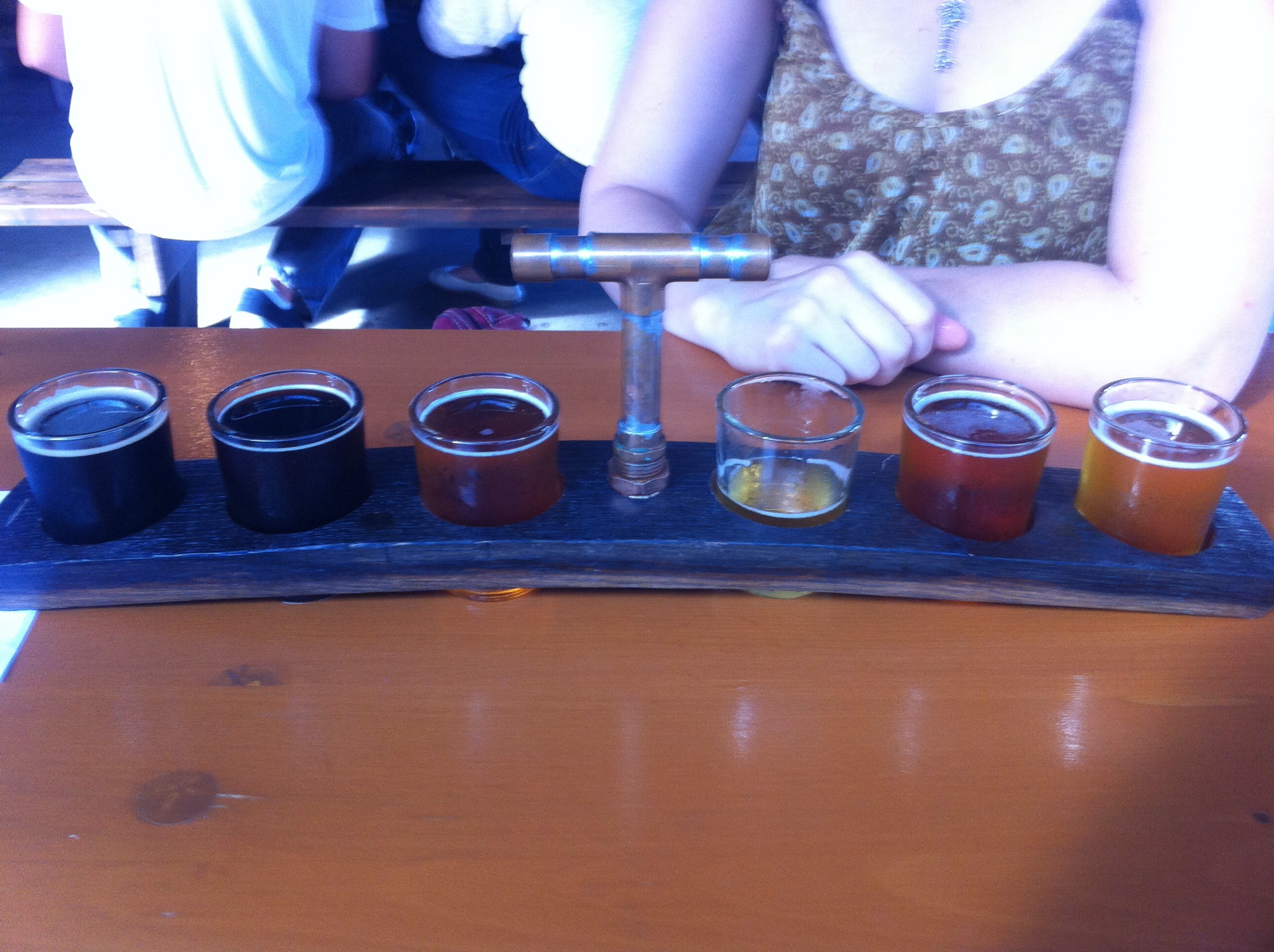 Their beers were quite tasty and are great for socializing on a hot summers evening.  I would not say their beers were exceptional, but they certainly had a great range of styles of beer as you can see below. There was something for everyone.
Honolulu Beerworks has a younger person feel and is a nice change from Gordon Biersch, which seems to aim for a slightly older, fancier crowd.
Anyway, back to the topic at hand. For my birthday, I received a beer flight set. Yesterday, I finally set it out and filled it up with a range of my recent beers; an IPA (I know what i said), a pilsner style beer, a Belgian ale, and a coconut porter. This would be called a Horizontal Flight ( a flight of beers all from the same producer).
They were quite beautiful all lined up like that. It allowed me to easily compare the different brews on appearance and aroma. I then started at the lightest and worked my way to the darkest noting the flavor and mouthfeel of each. It's amazing how differently you can view a beer when you hold it up to another, even if it is a different style. I can certainly see the advantages of having beer flights. My set contained four 6 oz glasses. I think I may have to add a six 3 oz glass set to my collection as this would allow for more variety with less chance of getting "three sheets to the wind".